Well hello there! How are my lovely readers doing today? I hope it is going great for you guys! Today I decided to splurge as to the contents of my makeup bag, one which I carry around with at all times. We all know that the weather is changing and a changing weather demands a change in the list of products that you use on a daily basis especially if you have combination skin like I do. Combination skin means that you skin can get overly dry and extremely oil without a day's notice and I honestly mean that. Accordingly, your makeup must be fully equipped to handle the tantrums thrown by your oh-so-loved skin.
So here is my makeup bag. It is a beautiful cheetah print from Victoria's Secret and it might not look like it, but it holds a ton of stuff.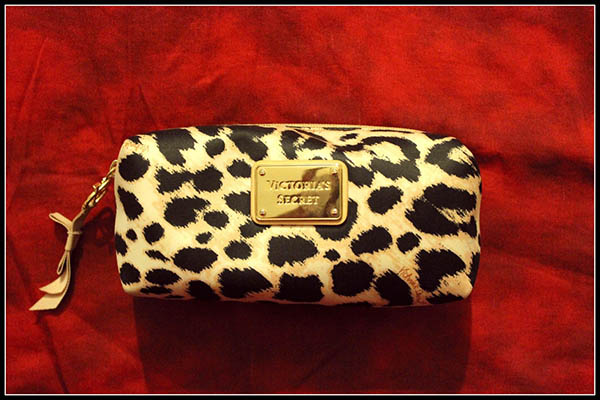 Here is a picture of the contents of the bag which I will go through each of these with a one line description.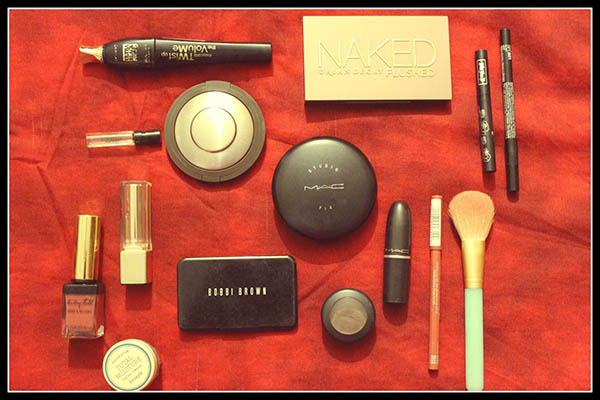 First off, I do not go anywhere without a trusted moisturizer in my bag because like I said, my skin can go totally dry without a moment's notice and with the crazy weather out there these days, this little treat from Benefit (total moisture) keeps me confident.
Secondly, my trusted powder foundation, the Studio Fix one, from MAC which this is in the color NC 30, always has and will continue to have a place in my makeup bag. No matter what the situation is, small blotting motions with this trusted product will ensure complete freshness and the best part is that it will not cling to the dry spots.
Next up we have blush. There was a time when my everyday makeup contained a ton of different brushes. Back in those days, the size of my makeup bag was bigger than my actual handbag, hypothetically speaking. But these days I place total reliance on this Naked Flushed palette in the shade streak. Believe it or not, the bronzer in this palette is perfect for a light shade on your eyes and since I have office every single day, this bronzer eye shadow is my best bet for keeping it light, simple and professional. When freshening up, I take the highlighter and dust it on my cheekbones and the blush, oh the blush! It is just so matte and beautiful, I am surprised it's not setting powder.
The next thing in here is a little dry shampoo and dry conditioner which they aren't pictured over here but these actually came in a goody bag from Nordstrom if I am not wrong. These are just my essentials for a rainy day, literally and hypothetically.
Next up I have my brow powder which I use the eye shadow Brun from Mac to fill in my brows with a small angled brush. My eyebrows don't need much work so this shadow does the whole trick.
The next thing I have in my makeup bag is my mascara. I have the one by Bourjois and it has this twisting mechanism. You twist the cap to lengthen the wand for the lengthening effect and then you twist if back for the shorter wand for the thickening effect.
I also carry a small perfume sampler with me and this keeps changing up from time to time. Currently I am carrying Prada Candy, a scent that delights me!
Next up in my makeup bag is my Kat Von D tattoo eyeliner. I am all praises for this amazing eye liner because it adds such a definition to your cat flick. And even if you are in the mood to do a cat flick, you can simply add some to the top lash line and voila! In an instant you will have brightened up your whole look, made it more chic to be precise.
As for lipsticks, Mac lustre lipstick in See Sheer, Clarins Rouge Prodige in Redwood and YSL Kiss and Blush in the shade 10 will always and forever have a place in my bag. Along with that, a lipliner from Rimmel in the shade 014 called Wild Clover is like my most used and heavily repurchased item for the lips.
Weekend eye and cheek palette by Bobbi Brown is the only thing I use to dress up my eyes if the need be. When combined with the Kohl pencil by NYX, the eye and cheek palette by Bobbi Brown can really make your eyes stand out. Now normally I refrain from eye shadows during working hours but on those busy days when I have a diner to attend after work and class, I tend to put on a few nude shadows and heavy kohl to do the trick.
Lastly, the brush that you see is a basic small powder/blush brush which this one is from the beautiful Fearne collection by Boots. So this was officially it for today. I really hope that you enjoyed a sneak peak of what my everyday makeup bag contains. If you would like to suggest a new product or share what your makeup bag contains or, most importantly, if you have a tip for working women around the world and their makeup maintenance woes, drop me a line.
Peace & Positivity, always.